June 14, 2021
The Specialist LINK tele-advice service that connects family doctors and specialists in real time recently celebrated passing 50,000 calls.
The innovative non-urgent advice line, which was launched in 2014, began with only one tele-advice option –– gastroenterology. Respirology was added a year later and today there are 51 services that can be requested either online at specialistlink.ca or by calling 403-910-2551. Calls are returned within one hour.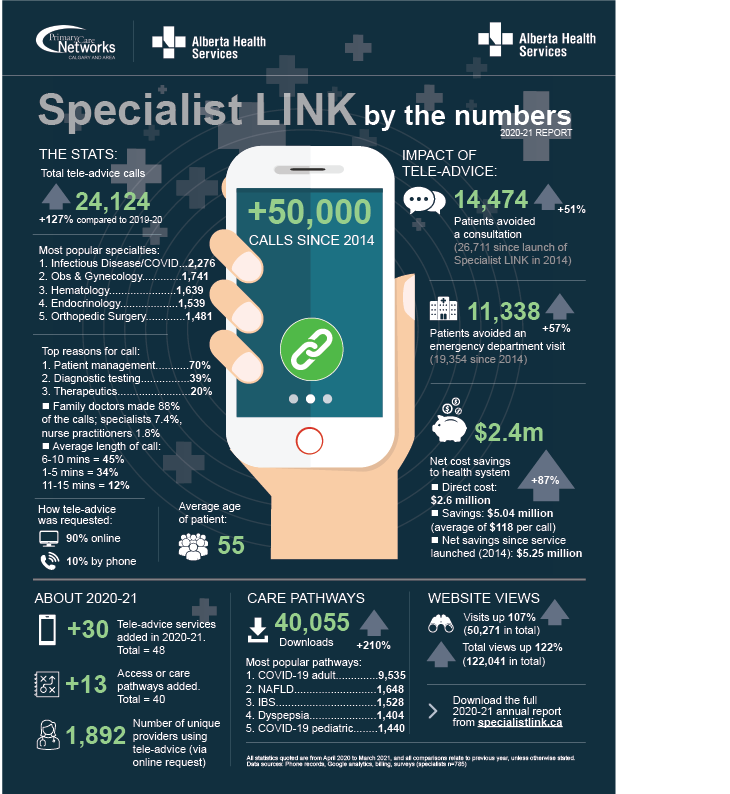 The milestone was passed in May, shortly after year-end results revealed a record number of calls in 2020-21, when 24,124 tele-advice calls were completed, an increase of 127 per cent compared to 2019-20.
Pathways, which were added to specialistlink.ca in 2015, were also used in record numbers. A total of 40,055 pathways were downloaded in 2020-21, a 210 per cent jump on the previous year. Website visits were also up 107 per cent, to 50.271. Highlights from the Specialist LINK annual report are featured in our annual by the numbers infographic, which can be downloaded here.
Make the most of your call
To make the most of tele-advice, please leave a direct number or cell phone for your call and limit patient-related questions to one patient per call. Allow an hour for a call-back – please don't try submitting another request after 30 minutes. If you are working with a resident we recommend that you, as a preceptor, should also be on the call. This is important for billing reasons. Please just alert the consultant and ensure they are aware of this.
If you have any problems connecting with Specialist LINK tele-advice, please email specialistlink@cfpcn.ca or contact the Specialist LINK administrator at 403-910-2551 (extension 0).